On Thursday, I met up with a local Swedish man, who took me to Impuls to take an Afro Power Dance class.  Impuls is a privately owned gym in the center of Lulea, Sweden.  The gym offers an extensive retail store with clothing and equipment, group exercise classes, child care, cardio equipment, and a free-weight section.  Members of the gym have the option of purchasing different membership packages, just like gyms in America.
The Afro Power Dance class was an hour long and consisted of  African-influenced movement.  There was a good turnout of students, male and female, who are also the regulars.  The instructor taught the entire class in Swedish  and started out with a light warmup before jumping into the choreography.  She did a great job teaching the movement and giving corrections to the students in an energetic and upbeat manner.  Her class was fun and I definitely feel that I got a workout!
After class, I talked to the instructor and learned that teaching fitness classes are her secondary job.  She works a full time job and only teaches 2-3 fitness classes a week. She teaches Zumba, PSI, and aerobics, but has the largest following in her Afro Power Dance Class.  She believes that the fitness industry is growing in Sweden and that it has even more room to grow as it becomes an important aspect in peoples lives.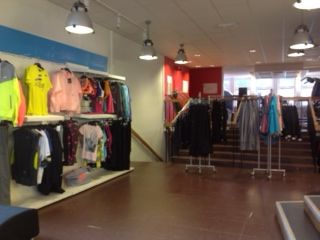 -Sarah and Kacie